Get Peace of Mind and Higher Margins With Expert Loan Servicing
Unparalleled Results across Many Industries and Credit Spectrums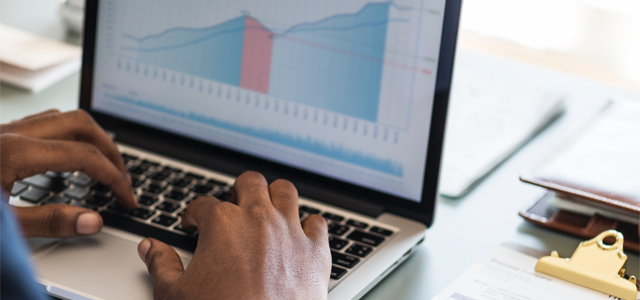 Today, many businesses enjoy higher loan program profits and fewer hassles when they turn their loan servicing over to a third party company with the proven expertise to:
handle and serve borrowers with all credit scores, including near-prime and subprime
issue consistent statements and collect payments via multiple, customer-convenient platforms
maintain up-to-the-minute compliance with state and federal regulations, avoiding regulatory risk
use state-of-the-art technology to secure and back-up records and consumer information
resolve delinquencies and defaults with a flexible and friendly approach
maximize client income by optimizing portfolio performance and cash recovery
enhance customer loyalty and longevity by proving professionalism and willingness to work with them
report to credit bureaus with precise data
Our Loan Servicing Specialists
Operating since 1990, Monterey Financial has become one of the nation's leading consumer loan servicing, collection and finance companies. Our success stems not only from our corporate philosophy to provide the most honest and dependable services, but from the investment we make in every member of our staff.
Over the years, we've found definitively that the more skilled and experienced our workforce, the better our performance and the higher our clients' profits for their loan programs. Our thorough training, competitive salaries, bonus programs and perks have ensured most of our employees stay with us for 10 years or more. Our loan servicing specialists are trained to develop positive relationships with borrowers in order to handle minor issues quickly before they turn into a larger problem.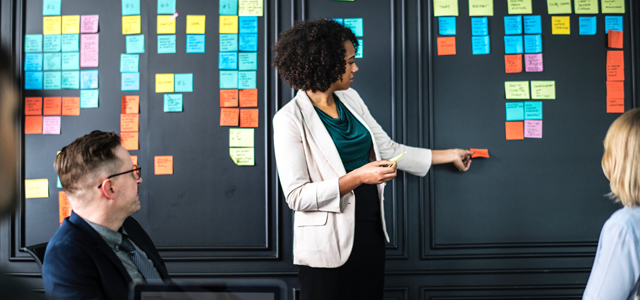 For our clients, utilizing our expert staff rather than their already harried, in-house employees translates into:
lower bad debt write-offs
higher cash recovery rates
deeper reporting and analytics
lower compliance risk
saving of valuable staff time
reduction of internal collection costs (increasing capital)
happier customers (when loans expertly handled)
avoidance of hiring, training and handholding your own loan servicing workforce
Our agents carefully execute an upbeat, understanding approach with all consumers, regardless of delinquency, and are well trained in the art of negotiation. A primary goal is to keep your customers loyal to your brand. Providing competent and clear communication regarding services and financing terms helps customers understand they are a priority and you appreciate their business.
Work with Our Simple Loan Servicing Process Crafted from 30 Years in the Field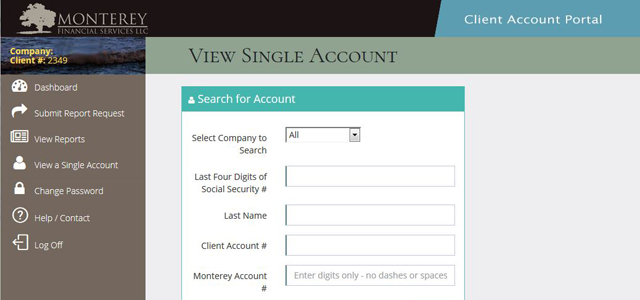 After nearly 30 years onboarding new clients, Monterey Financial has streamlined a simple process supported by user-friendly software that you and your staff will welcome, even enjoy!
We intend to serve our clients over the lifetime of their loan programs, providing loan servicing for clients with deep credit spectrums, including the subprime markets. In fact, we are one of the few loan servicers who specialize in the subprime arena.
Onboarding/Training
We can work remotely or in person at your location. Your MFS account representative(s) steps you through connecting your loans to the MFS portal you will use to monitor our progress and success.
On-Going
Clients enjoy 24/7 access to their MFS portal. Our intuitive platform and software makes individual loan performance, as well as overall portfolio performance easy to understand and access. Our data analytics team are happy to provide robust analyses of performance data.
Add-Ons
Once our clients recognized their cost savings when outsourcing to a third party loan servicer, they often request additional services like:
delinquent debt recovery
document storage
consumer finance
Tailored Loan Servicing Programs for Complex Lending Situations
The credit arena can get complicated. When your business model or customer profile becomes more than you can handle, trust that Monterey has seen, serviced and solved it before.
We can resolve:
high balance loans
loan delinquencies and defaults
borrowers declaring bankruptcy
loan modifications and forbearances
portfolios secured by lenders or investors
annual dues
additional loan reports
Loan Servicing Frequently Asked Questions (FAQ)