The Monterey Broker Program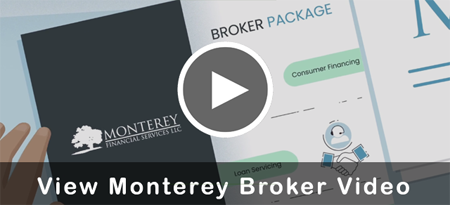 Monterey's broker network has been instrumental to our success. It's through these partnerships that we've been able to reach more clients and sustain our growth, while our brokers earn passive, residual commissions! The process is simple. Introduce a client to Monterey than ends up using any of our services, and earn commission each month they place business.
Register Today To Become a Monterey Broker and Start Earning Commission
Register here to receive the Monterey Broker Package for details about our Consumer Finance Programs, professional Loan Servicing, Debt Recovery Solutions, and associated Broker Commissions. Once you complete the information you will receive the Monterey Broker Package and gain access to a dedicated Sales Professional, available to answer any questions you might have. For more information about our services call (800) 456-2225 and ask for sales.
EARNING COMMISSION WITH MONTEREY IS SIMPLE

Broker Registration
Sign up below to receive a broker package that will walk you through Monterey's services and experience.

Training
A dedicated Monterey Sales Professional will reach out introduce you to the broker program and go over any questions you might have. The sales professional will be available to you going forward and will help you identify opportunities, and bring on new clientele.

Start Referring Clients
All we need is an introduction. These are your clients and you can control the process. Whether you would like to be involved on each sales call and client boarding, or you simply would like to make an introduction; we are happy to handle the relationship accordingly.

Collect Your Commissions
Our commission structures are very generous for the industry. Monterey pays commission for each month a client places business. And because the majority of our clients create ongoing relationships, our brokers earn residual long term commissions.
Mission Statement:
To empower every business with the ability to optimize their sales through financing, while maximizing cash recovery.
Register Today To Become a Monterey Broker and Start Earning Commission